From Human-Centricity to Generative AI: Navigating the New Norms of Qualitative Research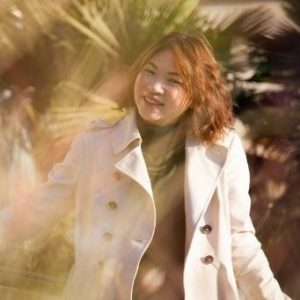 Lynette Goh is currently the UX and Community Strategy Lead of Trust Bank. Trained in both qualitative and quantitative research within the fields of psychology and human-computer interaction, she now has 12 years of experience as a user researcher and is passionate about understanding user needs, de-risking product decisions and designing impactful applications. Prior to Trust Bank, she has worked on many multinational product/service design innovation and improvement projects across Financial Services, Electronics, Healthcare, and other industries when she was in Academia, a UX consultancy and a tech start up. Her research has been published in scholarly peer-reviewed journals and conferences like ACM CHI.
QUAL360: Without giving too much away – what is the core message of your talk and what would you like our delegates to remember?
Lynette: Essentially that empathy is at the core of succeeding in getting people to act – any research done has to result in more than just another report document.
QUAL360: How do you view the convergence of UX Research, CX and Market Research/Insights? How has this impacted qual research?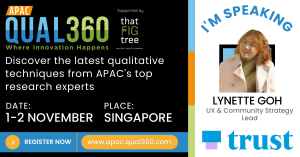 Lynette: As more organisations ship digital products and with the rise of online research technologies across these areas, the convergence of UX, CX and Market Research is growing. Though the research objectives may differ (e.g. Market Researchers may look at who and how to market this product to customers, whereas UX Researchers may pay more attention to what problems users are encountering using the product), there is still a shared focus of understanding customer needs and behaviours and the qualitative methods used to study them are similar. Framing a usability test in another way, it's still using observational skill (which is part of an ethnographic research method) to study what people are doing with your product.
There is a rise of research functions being blended to facilitate a shared knowledge as the customer journey (especially for digital products) these days are intertwined. How someone perceives and considers the product/service before getting it affects how they use and engages with it. The substantial impact would be the stakeholders' rising expectation for researchers to be able to use and adapt the methodologies to answer the varied range of research questions across the market, product, or user. To them, research is research especially in the qualitative front and not everyone is aware of the differences.
QUAL360: How can qual can play a role in strategy?
Lynette: When strategic research questions are being answered via qualitative research to help de-risk product and business decisions by making sure you're solving the right problems and opportunities, that's when it affects strategy the most. From the moment someone has an idea for something, methods like user interviews and co-creation workshops can be used for product discovery which informs strategy.
QUAL360: What is the impact of new and emerging technologies on qual research? How can we retain human-centricity and human experiences and create a balance with new tech?
Lynette: One of the most relevant emerging technology that'll impact qualitative research would be generative AI and the ability to create synthetic users and research insights. This technology when used wisely can help researchers be more effective in their competitive analysis and even in qualitative data analysis. However it does come with its limitations, namely that the technology as of today is unable to bring in contextual cues of participants nor integrate mixed media analysis (like web/mobile screen recordings). Thus the insights and recommendations tend towards being a little vague and generic.
To design for humans, we need human input. Humans can be complex creatures, and we change and adapt over time. These models then need to adapt too. We should have ways to double check the validity and reliability of the output of such technology, and that's where it still relies back to involving actual customers and users in the process.
QUAL360: What motivates you to join Qual360 Summit?
Lynette: I'm looking forward to connecting with other researchers from different industries to share and learn from each other different problems we face and the current/potential solutions we have for the research discipline.
QUAL360: What are your thoughts on the future of qualitative research and insights?
Lynette: Qualitative research is here to stay. We still have compelling stories to tell organisations to build empathy between them and their customers to design for better experiences. Without it, organisations may find themselves missing out on the intricacies of understanding why their customers are behaving as such and make erroneous decisions that'll impact the business value.
Explore QUAL360 APAC vision for the future of qualitative market research! Discover the latest in technology and analytics with leaders from Kimberly Clark, Colgate Palmolive, Nestle, Coca Cola, Fonterra, Reckitt, 3M, Mondelez International, Unilever, Singlife, Haleon, Heineken, Meta, Mercedes-Benz AG and more. Don't miss out – secure your spot now!