At Fastuna we have been helping our clients to simplify decision-making and to integrate best practice approaches into their workflows for many years now. We have accumulated a treasure chest of knowledge, as well as built and perfected an algorithm that we would like to share with you. When developing a new product or a concept there is an easy trick. You have to integrate the voice of your consumers at the earliest stages of development and continue iterating with every feedback loop till the winning end.
This white paper presents the best practice approach to developing product ideas using consumer feedback, which involves three main steps: selecting resonating insights, selecting the best ideas, and testing the concepts developed. It will help you develop product ideas with the most potential for success / which will have the highest potential demand. The paper focuses on the importance of insight screening and provides a guide to articulating insights precisely, using tension statements to generate the best insights. In this white paper you will also find clear guidance on measuring insights, ideas and concepts as well as identifying dead-ends.
Here are the 3 main steps you should take to create a winning product:
Step 1. Select the most resonating insights that ring true with your audience. This should be done at the very early exploratory stages of development. Testing early is crucial as it provides the foundation for generating great product concepts.
Step 2. Select the best ideas. Once you have honed in on the best insights you will brainstorm ideas to solve the needs presented in your insights. You should screen the product ideas to pinpoint the ones with the most potential before going into concept development.
Step 3. Test the concepts you developed. Now you are testing the ready-made concepts in detail during the fine tuning stage of your product development. This should be done when ideas mature, e.g. written or sketched concepts.
1. Insight screening
At this stage you find yourself full of somewhat ambiguous ideas. Although fragile, these ideas shine with potential. You might feel a sense of accomplishment from the ideas you generated at the workshop or insights that came out of your qualitative research. At this point you are also thinking about the next steps. And your next steps should already be – how to develop the ideas further and how to prioritize the most promising ones. Now is the time to show those insights to your audience, however raw. Do they resonate with your clients in any way? We define insight as a non-obvious truth about people which carries tension within it.
Such a truth can be a: Need. Behavior. Perception, feeling or belief.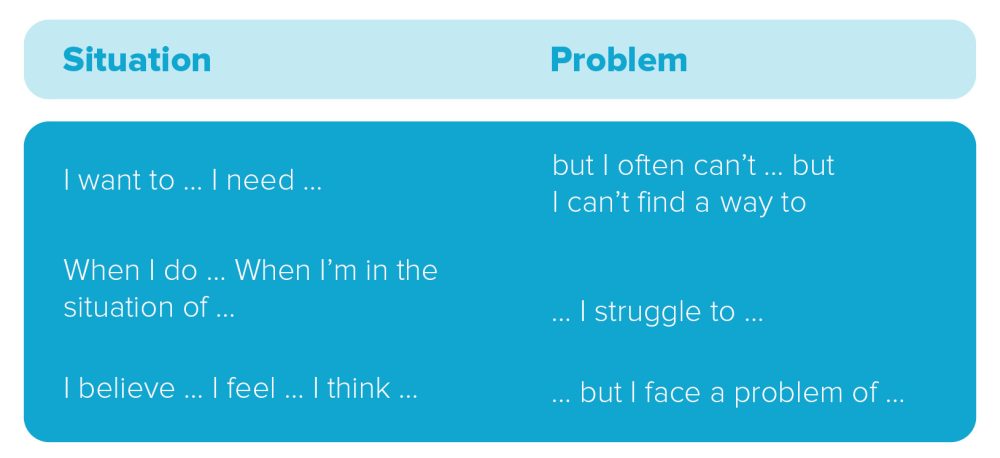 Articulating insights: It's important to articulate your insights precisely. We suggest using tension statements (situation + problem), e.g. tension between a strong need and the inability to satisfy it, a feeling of frustration, a juxtaposition. One statement per insight. Here are some examples of how you can put situations against problems to demonstrate tension:
Measuring insights: In order to evaluate and rank the insights we need to conduct a survey. And to do this effectively we need to measure:
% of the target audience affected by the tension VS Intensity of the tension
Case study: testing St Valentine's Day insights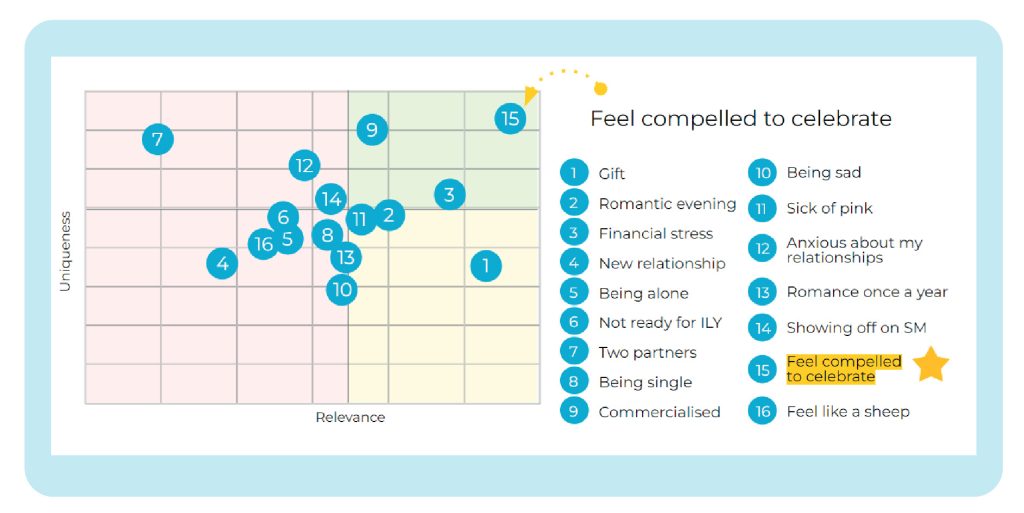 We came up with 15 insights for the purposes of this example. We tested those insights on a UK audience, equal male and female split, aged 18-65 using the Insight Screen solution by Fastuna.
2. Idea screening
Once you have selected your insight or need you want to work with, it is time to think about potential solutions or ideas. You can have several ideas to test which should be presented in a text format or with addition of visuals.
What your ideas could look like: Here we will show you an example of a product idea we used for his test and deconstruct it so you can easily create your own. Now that we have selected one insight with the most potential, the next step is to create solutions (product ideas) for it. We have created 10 solutions using AI (ChatGPT) for some of them and HI (Human Intelligence) for the others. Here is one of the solutions: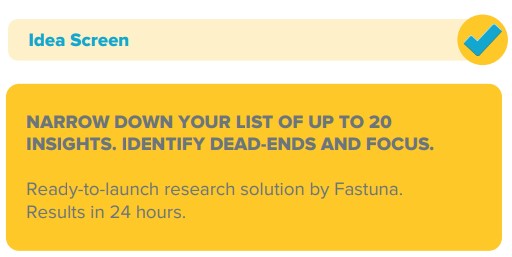 Love Surprise has the highest uniqueness and motivation to try scores, with uniqueness being almost 80%.
In order to get the most out of this test your idea should be clearly explained and articulated.
What is it? An app
What does it do? Generates random romantic activity suggestions
What's the end benefit: Keeps the spark in a relationship
Measuring ideas: In order to evaluate and rank our ideas, we conducted a survey. We suggest using the following KPIs: (Try/Purchase or Unique )
Having just 2 KPIs is enough for this idea screening stage. They will inform you whether the ideas are new, whether they will stand out and also to what extent do they motivate / call to action – try or purchase the future product. Respondents are invited to evaluate up to 5 ideas. By keeping the questions to a minimum we maintain respondent engagement and minimize fatigue. This makes the solution more cost effective while keeping the interview length reasonably short. That, in turn, ensures data quality and lower sample cost.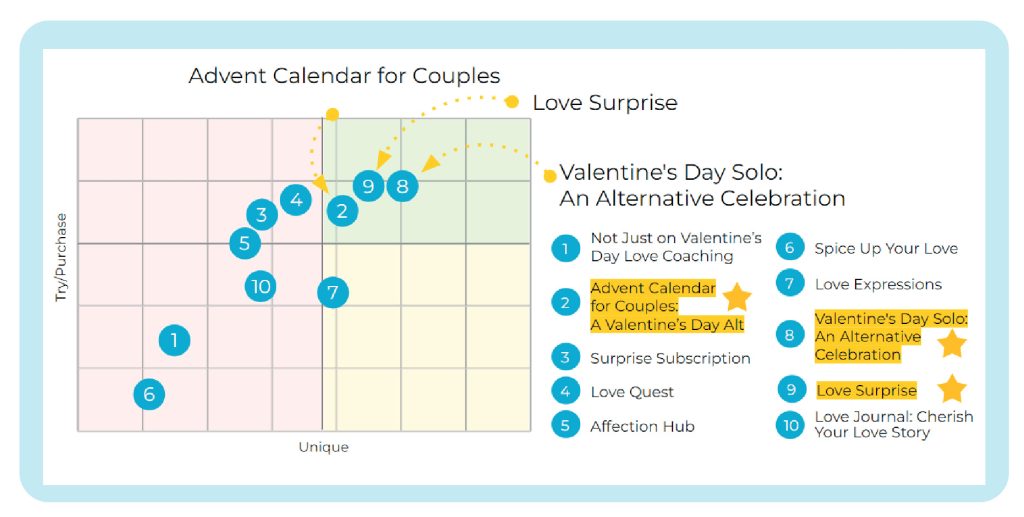 Now that we have described what an idea should look like, let's get back to our example. As mentioned above "Love Surprise" was created alongside the other 9 solutions. We came up with a total of 10 product ideas for the purposes of this example. We tested those ideas on a UK audience, equal male and female split, aged 18-65, using the Idea Screen solution by Fastuna.
We can see that three of our ideas are in the upper right quadrant. This means that we have some promising ideas for more detailed testing and further development, but they need some fine-tuning to make them appealing for customers to try. Read on to find out how ideas become concepts and what happens at the concept stage.
3. Concept testing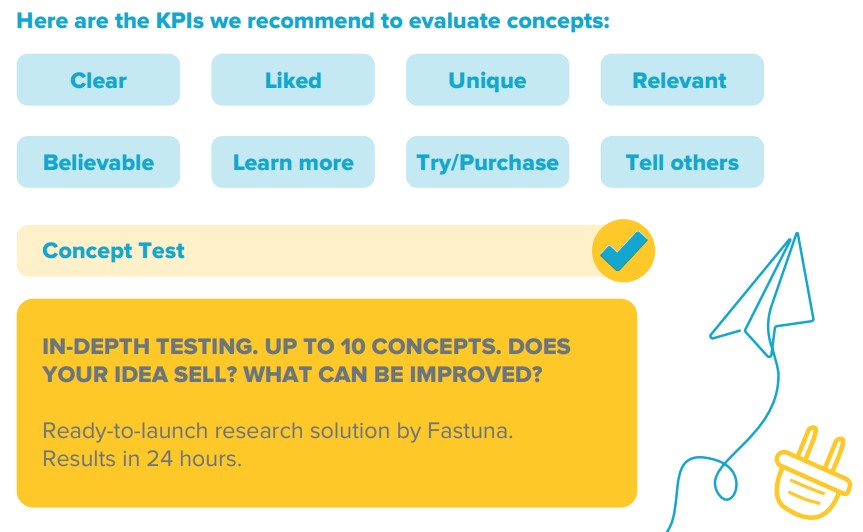 After selecting the most resonating insights / needs as a basis for your product ideas and once you have tested and selected ideas with the most potential which solve a problem, you can start dressing them up. Those will be your concepts. They may still take a form of text but they have to evolve to be more articulate, specific and detailed descriptions of your ideas.
Measuring concepts: In case we still have several concept options, at this stage we may have an objective to choose the best concept to go with and also to get new detailed information for further adjustment. We need to measure more KPIs, so in this case the questionnaire needs to be slightly longer. That's why each respondent will evaluate only one concept at this stage. The results will be independent so the other options won't influence perception.
Below is an example of a concept we tested based on the insights and ideas we analyzed earlier. The concept usually includes a lot more detail than the overall idea.
Love Surprise: A fun and easy app that helps you and your partner plan romantic surprises for each other all year long. Keep the spark in your relationship with new and
exciting activities, tailored to your unique interests and preferences. With Love Surprise, you can sign up and create profiles for yourself and your partner. The app will suggest fun date ideas based on your interests, such as romantic dinners, picnics in the park, or movie nights. You can choose to plan a surprise for your partner or let the app do it randomly for you! Love Surprise will send you all the details for your surprise, including the date, time, and location. You can keep track of your past surprises and plan future ones, ensuring that your surprises remain unique and exciting. The app also includes features like romantic quotes, love notes, and gift suggestions to make your surprises extra special. With Love Surprise, you'll never run out of ideas to keep the spark alive in your relationship.
You will notice that it includes details about how the app will generate surprise ideas, not just the fact that it will do that. For example, it says that it will use profile information to tailor activities to each individual.
Here is a table that illustrates the difference between an idea and an insight using our Love Surprise example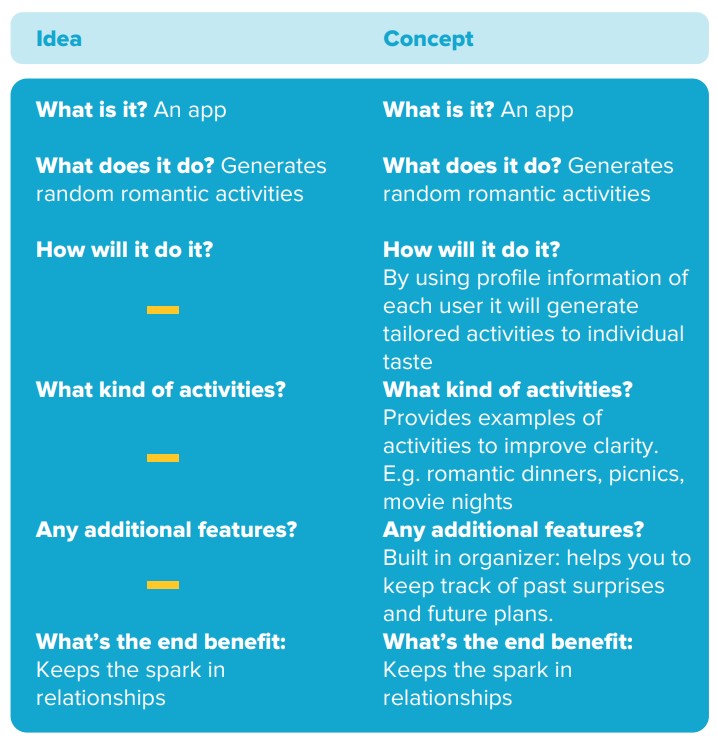 This concept "Love Surprise" did not perform very well after all. Although it was clear, the audience did not find it relevant nor did they like it. This is a perfect example of the importance of iterative testing. If you remember on the previous chart "Love Surprise" was the top performer, whereas upon testing it in more detail as a concept it doesn't perform as well. This is because respondents were given more detailed information about this idea and evaluated it more thoroughly. This is why in most cases it is important to have backup. Gladly we tested two other concepts alongside it. They performed much better and will be recommended for future development.
In conclusion, don't miss a trick when developing your products. Make sure you maximize the potential of your ideas by incorporating the voice of your consumers in product development at the earliest stages and at every stage. It is a crucial step towards creating a winning product. By following the three steps outlined in this article – selecting
resonating insights, brainstorming and screening ideas, and testing concepts – you can ensure you are creating products that meet the needs of your target audience. Additionally, it is important to articulate insights precisely using tension statements and to avoid biasing responses. It can be useful to differentiate between ideas and concepts and to see the value it can bring to test at all stages of development. By following all these best practices, you can develop successful products that are sure to resonate with your customers!
Innovate with confidence
Validate product and marketing decisions with real people using our hassle-free testing tool
Explore MRMW EU's vision for the future of market research! Discover the latest in technology and analytics with leaders from Beiersdorf, Porsche, Puma, Reckitt, Mars, HSBC, Electrolux, Mondelez International and more. Don't miss out – secure your spot now!