Consumer privacy is a core issue for Maxwell Minckler, Head of Consumer Insight at Google EMEA as expressed in our pre-conference interview ahead of the virtual Insight Extravaganza conference. In our series of speaker interviews we ask all our upcoming speakers about the industry's most pressing issues and of course their presentation topic.

IE2023: Without giving too much away – what is the core message of your talk and what would you like delegates to remember?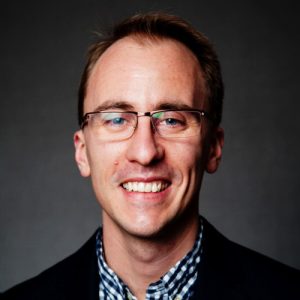 Maxwell: The core message of my talk is that consumers take privacy more seriously than you might expect – and brands should too.  My session summarises our most recent privacy research study from Google and Ipsos, which involved surveying 20,000 people across Europe, to highlight the business and brand implications of not enacting a good privacy strategy – and the clear commercial benefits of getting it right.
Adopting privacy practices that are meaningful, memorable, and manageable — particularly in combination — helps brands give people a feeling of control, which, in turn, boosts brand trust and marketing effectiveness.
IE2023: What motivates you to join the Insight Extravaganza conference and what are your expectations?
Maxwell: I am most keen to share the surprising and encouraging results from our latest research with Ipsos on consumer privacy, to share the win-win scenario that employing good privacy practices enables for both brands and consumers.  My expectations of the summit are that I'll learn equally interesting, hopefully surprising insights, on B2B and B2C topics relevant to my role as Google market insights lead for EMEA.
IE2023: How do you envision the future of market research and insights, and where do you see the industry heading?
Maxwell: Just as businesses' insights needs and questions become more complex in the face of an increasingly complex consumer reality, so too will the future of market research need to blur across boundaries. It'll need to be de-siloed – for example between data analytics, media performance, and primary research teams.  It'll need to be multidisciplinary – for example blending behavioural science with semiotics and social listening to get at the heart of trends.
Market research resourcing and process constraints will also shift – particularly secondary research, insighting, and data storytelling – along with clients' expectations of time-to-insights.  Market researchers will have to become comfortable with a faster-paced research flow, understanding customers where they are, and become more open to synthesising insights from across even more disparate sources and methodologies to inform marketing strategy and answer tomorrow's business questions.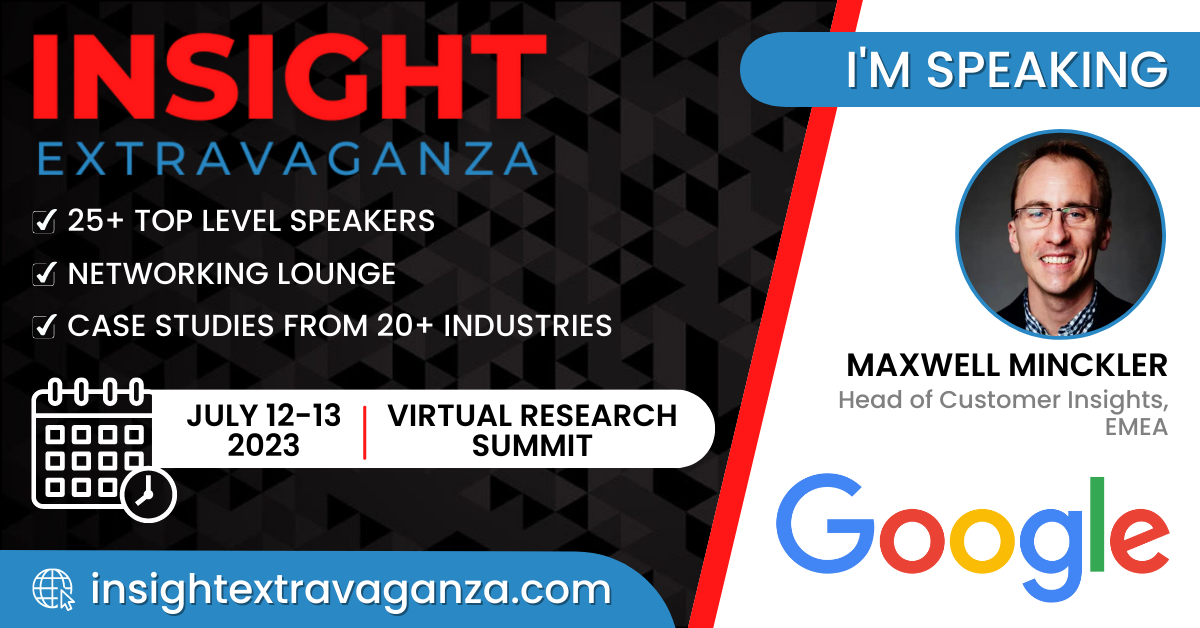 IE2023:  What is the best advice that you have received on your journey in this industry?
Maxwell: The best advice I've ever received in this industry is captured in a Mark Twain quote: "I would have written you a shorter letter if I only had more time."  Short is hard, long is easy.  One good insight will travel vastly farther than 100 interestings. 
As most professional performers know, the art is in making the nearly impossible look easy – in our industry, making the hours and hours of analysis, data cleaning, primary research, secondary research, etc – look simple, easy, almost effortlessly understandable to our audiences.  Time spent on wordsmithing concise insights is well spent, and key to getting you there.
IE2023: Apart from your work on consumer privacy, what should delegates talk to you about at Insight Extravaganza – do you have any particular personal interests, hobbies or extracurricular activities and engagements?
Maxwell: Surrealist, strange, and funny poetry, AI workflow and research tools, bread baking, and jazz trumpeting.
IE2023: Maxwell, thank you very much. We look foward to hearing more from you at Insight Extravaganza 2023!

---
IE2023 will feature Maxwell as well as representatives from Philips, Reckitt Benkiser, General Motors, Visa, Ikea, Danone, MostlyAI, Meta, Twitch, Mars, Statista, Entropik, Bayer and many more.
Tickets are available at https://www.insightextravaganza.com/